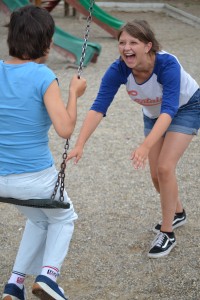 Monica is my one to one at Casa Lumina. We spent our first one to one together getting to know each other and I got to know what she loved and what she didn't love so much. This was important because I wanted nothing more than to make her happy. I suppose I didn't have any goals for my one to one, other than to build a positive relationship with Monica.
I quickly learnt that it wasn't enough to rely on my own strength to form this relationship because to begin with Monica's behaviour tested my patience, she often repeats the same phrase or action over and over again and she's very very cheeky. It became clear to me that I needed to rely on God's strength because with him anything is possible. Each week I spent with Monica I saw progress in our relationship. Monica loves balloons…I learnt this when she repeatedly stuffed the balloons I had brought with me down her pants! I started to just bring one and despite asking for more Monica quickly settled for one, I started to produce one at the end of each one to one we had together and she would repeatedly kiss me when she received it, the joy written on her face made me so so glad.
My favourite memory of Monica has to be when I was first allowed to take her to the park with the other young people, she was so well behaved and I was so proud of her. When we go to Casa Lumina with the volunteers I am so chuffed to be able to say to them that Monica is my one to one and I will really miss her when I leave Romania.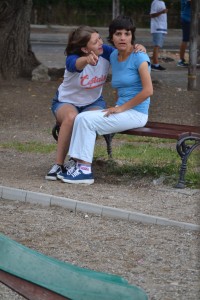 If you're reading this and you know the story of Cry in the Dark then you will know that it began with compassion and that compassion is still at the heart of the charity today. What I have for Monica and for everyone else at Casa Lumina is compassion and by spending my summer in Romania I have had the opportunity to express my compassion, in many different ways, to those living at Casa Lumina.
The compassion I feel doesn't end at Casa Lumina, it extends across the projects I have had the pleasure of being involved in through Cry in the Dark, this includes day centre at Casa Albert, working with those living in Poina Negustroloui and Ungereni. One of my highlights whilst being on the micro gap took place at Ungereni. I was sitting on the ground with a fairly elderly woman, she began to stroke my hair and repeatedly called it beautiful, when she stopped I did the same back to her and as I looked into her eyes she began to giggle and cry happy tears. We continued to spend time together giggling, singing and jiggling, this moment taught me that you don't need to know anything about someone or speak the same language as someone to love them. It became known to me that in Romania those living in places such as Ungereni, particularly in the past, are seen as the lowest of the low in society. But as followers of Jesus these are the people we are called to love, as Jesus first loved us.
My prayer is that Cry in the Dark is able to continue to put compassion into action and that we can all show compassion wherever we are to whoever we may be with.
Megan Cooper
Gapper Summer 2016
If you want to know more information about Micro Gap please get in touch here.